As we go through this interesting time of online learning due to COVID 19 (and now an earthquake!) we want to share some library/book-related resources that can support your online learning.  A different resource will be added each school day.  Enjoy:)
*May 21, 2020 - https://www.youtube.com/watch?v=HkbxYbEuQGY&fbclid=IwAR0kSORyvmwCLS69sZEegN05vcO8xA2dm9AJHCw1kcJ_mB8y5Ydq8Gyse1M  Not book or library related, but just a bit of humor as we start finding our way back to "normal"😜
*May 20, 2020 - https://www.homereadinghelper.org/ Welcome to Home Reading Helper, a children's reading resource!  This has some great resources we can use in our library classes as well!
*May 19, 2020 - https://www.cityofgoleta.org/city-hall/goleta-valley-library/information/covid-19-how-to-keep-busy  A public library in California is offering some ideas for both adults and children to stave off boredom and provide entertainment and education outside of the library.
*May 18, 2020 - http://childs-play.com/usa/parent-zone.html  Nurture a love of reading in your child by introducing them to quality books at a young age. Our program is designed to stimulate and support all children through lively narrative, repetition of language and bright illustrations.
*May 15, 2020 - https://readingtrove.blogspot.com/  Building a literate environment.  This is a blog with ideas and suggestions of books and activities to promote literacy.
*May 14, 2020 - https://www.youtube.com/watch?v=NBJmp1c3XIQ&t=99s  Watch Ian Nicholson and Samuel Wilde's puppet-filled adaptation of Jon Klassen's beautiful picture book 'I Want My Hat Back'.
*May 13, 2020 - https://thekidshouldseethis.com/  Smart videos for curious minds of all ages.  The Kid Should See This is an unprecedented collection of 4,500+ kid-friendly videos, curated for teachers and parents who want to share smarter, more meaningful media in the classroom and at home. And thanks to our members, it's free for everyone.
*May 12, 2020 - https://www.scbwi.org/digital-directory-for-remote-learning-resources/  Resources from the Society of Children's Book Writers and Illustrators
*May 11, 2020 - https://www.curiouscitydpw.com/ 

*May 8, 2020  - https://www.youtube.com/watch?v=G8u2gn5rmYc  Mo is back!
May is THANK-O-RAMA month with Mo Willems! As part of the monthlong celebration, Disney Publishing Worldwide is joining the Kennedy Center for a special video series, Thank You Thursdays! Tune in every Thursday in May any time after 1 p.m. ET to see who Mo (and viewers) will thank each week. For more Thank-O-Rama ideas, visit http://www.thankorama.com.
*May 7, 2020 - https://uschoollibrary.blogspot.com/  A blog from Librarian Mary D'Eliso for her students during the Covid 19 quarantine. "My blog, as stated to parents, is designed to be obsolete after we all go back to school, as many of my lessons rely on temporary copyright leniency."
*May 6, 2020 - https://www.squeetus.com/files/PIB_COVID_PSA_booklet.pdf  Shannon and Dean Hale, authors of The Princess in Black books, have released a free e-book featuring their superhero main character. The book is available for download on Shannon Hale's website as a public service announcement for kids as a way to learn more about what the coronavirus is, and how to stay safe.
*May 5, 2020 - https://www.teachingbooks.net/  An engaging collection of resources that brings books to life.
*May 4, 2020 - https://everychildareader.net/cbw/at-home-2020/ 
Children's Book Week is not only a celebration of books, but of connection. It is a vehicle to unite kids and adults with books, authors, and illustrators in order to foster a love of reading. As we all take the recommended measures to keep ourselves and loved ones safe, we are adjusting the traditional celebration this spring.
We invite everyone to celebrate with us at home and online using #BookWeek2020atHome May 4-10 this year!
*May 1, 2020 - https://www.tumblebooklibrary.com/Register.aspx
Welcome to the TumbleBookLibrary free trial page!

During this difficult time, TumbleBooks wants to do its part to support our community. This is why we are offering schools and libraries FREE access to our collections until August 31, 2020!

Please only create one trial per school.
*April 29, 2020 - https://www.magictreehouse.com/go/ Introducing Magic Tree House Home Adventures.  Read and explore with Jack and Annie every week!
April 28, 2020
We want to make you aware that your colleagues in the fine arts departments of the middle and high schools have been preparing their students for the annual JSD Art Show. The following announcement was featured on the District website. Please view and comment on the students' art at http://instagram.com/jsd.msartshow and http://instagram.com/jsd.hsartshow.
.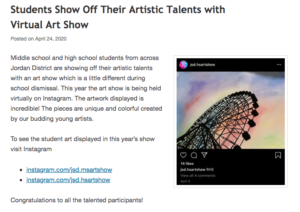 *April 27, 2020 https://www.youtube.com/watch?v=p8yhH7AHty8&feature=youtu.be  Draw everyday with JJK - Jarrett J. Krosoczka—author & illustrator
April 24, 2020
This one's just for fun! Have a wonderful weekend!: We appreciate the wonderful work you are all doing:
April 23,2020  https://docs.google.com/document/d/1LmCgbKkge1FoScCV0Uu6zik5zYGRKh31NiTSJGiKJzA/edit Screen Free Activities
April 22, 2020 - https://www.btsb.com/fun-activities/ Some fun book related activities and resources compiled by the Bound to Stay Bound resources specialty team 🙂
April 21, 2020 -
Many of you have done outstanding work in finding creative ways to connect with your students at this time, including providing readings of stories. I've been impressed with all of those that I've seen. Clin Eaton is an award-winning drama teacher at Riverton High School who has recorded a story for students and is going to be doing more in the future. He indicated that his videos may be used and shared freely. Enjoy!:
*April 20, 2020 -  https://padlet.com/nordingc/yvr1988dkgxz?fbclid=IwAR25YbslTY-nwPLMi_owRYMsGkLwLgkFE9Z5wvBDswhH92PFQThgnrXEK3g  A Padlet, organized by topic, highlighting books and other book related activities that are available through Youtube.
*April 17, 2020 - https://wakelet.com/wake/6d977c5f-4983-4892-861d-06ab7e26ed58  Virtual tours of museums and zoos
*April 16, 2020 - https://www.middleweb.com/42521/kids-journals-could-become-primary-sources/  From Lauren S. Brown "Now all of us, including my students, are living through a historical moment. If you are looking for a meaningful assignment that you can give students while we are all stuck at home, consider doing a "living through history" assignment."
*April 15, 2020 - https://youtu.be/bXImm1iLX9k  The State Office (USBE) has produced a very helpful and informative video about FERPA (student privacy laws) and virtual learning.
*April 14, 2020 - https://kidlit.tv/  Explore the world of Children's Literature - shows, radio, crafts & activities and book trailers
*April 13, 2020 - https://classroommagazines.scholastic.com/support/learnathome.html  Scholastic Learn at Home, day-by-day projects to keep kids reading, thinking and growing
*April 3, 2020 - https://kids.scholastic.com/kids/books/dav-pilkey-at-home/  Hello Supa Buddies! Welcome to Dav Pilkey At Home. Together we can get creative and have fun with some of your favorite characters from Dog Man and Captain Underpants! Check back every Friday to discover new activities, exciting videos, and so much more!
*April 2, 2020 - If you are not yet following Mac Barnett (macbarnett) on Instagram, please start NOW! Watch Mac's Book Club Show as he posts live readings from his books each day and a reads a chapter from Mac B Kid Spy each evening on his IGTV https://www.instagram.com/macbarnett/channel/. And don't miss his Live Cartoon posts - they are hilarious!  Also to follow on Instagram - jonklassen and dsantat.
*April 1, 2020 - https://www.rhteacherslibrarians.com/latest-buzz/elementary-school-resources/  Random House has organized all of their book resources onto a few web pages so that they are easy to find.
*March 31, 2020 - https://www.juniorlibraryguild.com/jlgdigital-free  FREE access to our JLG Digital online reading platform!
*March 30, 2020 - http://www.mcbookwords.com/readalouds.html This gateway to amazing learning sites is hosted by McBookwords. Thanks to the hosts of these pages for providing quick access to dozens of amazing sites which includes Read Alouds and More!
*March 27, 2020 - https://www.slj.com/?detailStory=publishers-adapt-policies-to-help-educators-coronavirus-covid19 Wondering if you can read that book to your students online? Here is a link to a School Library Journal article about publishers supporting online reading of their books during the COVID-19 pandemic.
*March 26, 2020 - From Ruth Gilmore Ingulsrud, a Teacher Librarian - "Read-alouds are more fun with students present, of course, but in the meantime, my menagerie of library puppets have stepped in to help. They obligingly interrupt my reading with questions and comments, much like the students (… whom I am missing terribly...) will do with any lively read-aloud." https://www.youtube.com/channel/UCjgN9cGdetj8YX6noAtpklQ/videos
*March 25, 2020 - ABDO Instant access to learning  https://abdobooks.com/covid-19-resources
*March 24, 2020 - From Follett School Solutions:
Hello,

We realize educators are facing unique challenges right now, and we want to help.

To help make eLearning easier, we are providing free access to eBooks from Lightbox™ and AV2 World Languages through June 30, 2020. You can register for access here.

Lightbox™ offers over 1000 PreK-12 titles in science, social studies, language arts, math and more. AV2 World Languages features high-interest titles in 10 different languages with full audio support.
*March 23, 2020 - Capstone's PebbleGo and Capstone Interactive eBooks are available using the following information:
PebbleGo:

Capstone

 Interactive eBooks:
*March 20, 2020 - Oliver Jeffers reads and discusses his books. https://www.oliverjeffers.com/books#/abookaday/
*March 19, 2020 - https://www.storylineonline.net/    The SAG-AFTRA Foundation's award-winning children's literacy website, Storyline Online, streams videos featuring celebrated actors reading children's books alongside creatively produced illustrations.
*March 18, 2020 - https://www.youtube.com/playlist?list=PL14hRqd0PELGbKihHuTqx_pbvCLqGbOkF  Lunch Doodles with Mo Willems Video Playlist
Purpose and Mission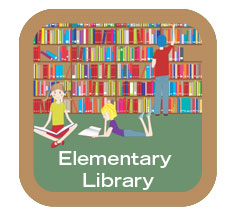 The mission of the elementary library program is to support students' acquisition of library media skills identified in the Utah State Core Curriculum. The Library Media Core Curriculum for grades K-6 consists of three strands: information literacy, literature, and media literacy. The elementary library program is designed to encourage children to become lifelong readers by giving them access to an abundance of books and other resources of varied interest and ability levels. In addition, students participate in learning activities that help them acquire library/information literacy skills that teach them how to locate, evaluate and use information to increase learning and solve information problems.
Destiny Online Catalog | Elementary Media Guidelines | USOE Library Media Core | Contact Information | Pioneer | World Book Online
---
Elementary Library Media Specialists
The elementary library media specialists are district specialists who work under the direction of the administrator for Instructional Support Services and the principals of their assigned schools. They are teacher-librarians—licensed professionals that are certified as both teachers and as library media specialists—who have the knowledge and expertise to develop, implement, and evaluate an effective library media program that supports the school curriculum. Jordan District currently has three elementary library media specialists. They are responsible for overseeing and managing the library programs in their assigned elementary schools.
Under the direction of the local school principal, the elementary library media specialist:
Plans, establishes, evaluates, and maintains the policies, procedures and expenditures necessary for the operation of the school library media program in assigned elementary schools.
Selects, evaluates and purchases appropriate materials which support the curriculum needs of the school, enrich the learning experience, and reflect the interests and needs of students. (See policy AA440: Library Media Selection and Review).
Manages the library media program budget for assigned schools
Provides in-service training for library assistants.
Weeds the collection based on professional guidelines according to wear and tear, lack of circulation, and outdated content in order to maintain a collection that is current and appeals to student and teacher interests and needs.
Makes information resources available through a systematically developed collection within the school and through access to resources outside the school.
Assists principals and teachers in selecting, acquiring, and using instructional materials for development and support of the curriculum.
Advises on laws and policies regarding information and copyright.
---
Library Assistants
Elementary library assistants are 17-hour aides. They work under the direction of the licensed elementary media specialist and manage the day-to-day operations for their school library. They maintain the library's automated checkout system; process new materials; help students and teachers locate appropriate books, equipment, and materials; send overdue notices; help coordinate the collection of money for lost and damaged books; and set up and assist teachers in operating media equipment. They also assist the elementary library media specialist assigned to their school with required reports.
Under the direction of the principal, the classroom teacher, and the Area Library Media Specialist, library assistants read to student groups, conduct learning activities that help students acquire library and information literacy skills, and assist teachers and students as needed to encourage the use of the library media center.