Moon Phases Activity Kit  |  Meteorite and Volcanic Rock Kit | Colonial Williamsburg: 18th Century Artifacts | Seasons Activity Kit |
Discovering Utah's Fossils | Dental Kit Fabulous Four | Utah Dental Kit | Trappers and Traders | Speed Stacks |
Utah's Ghost Towns | To Be A Pioneer | Hitting Pay Dirt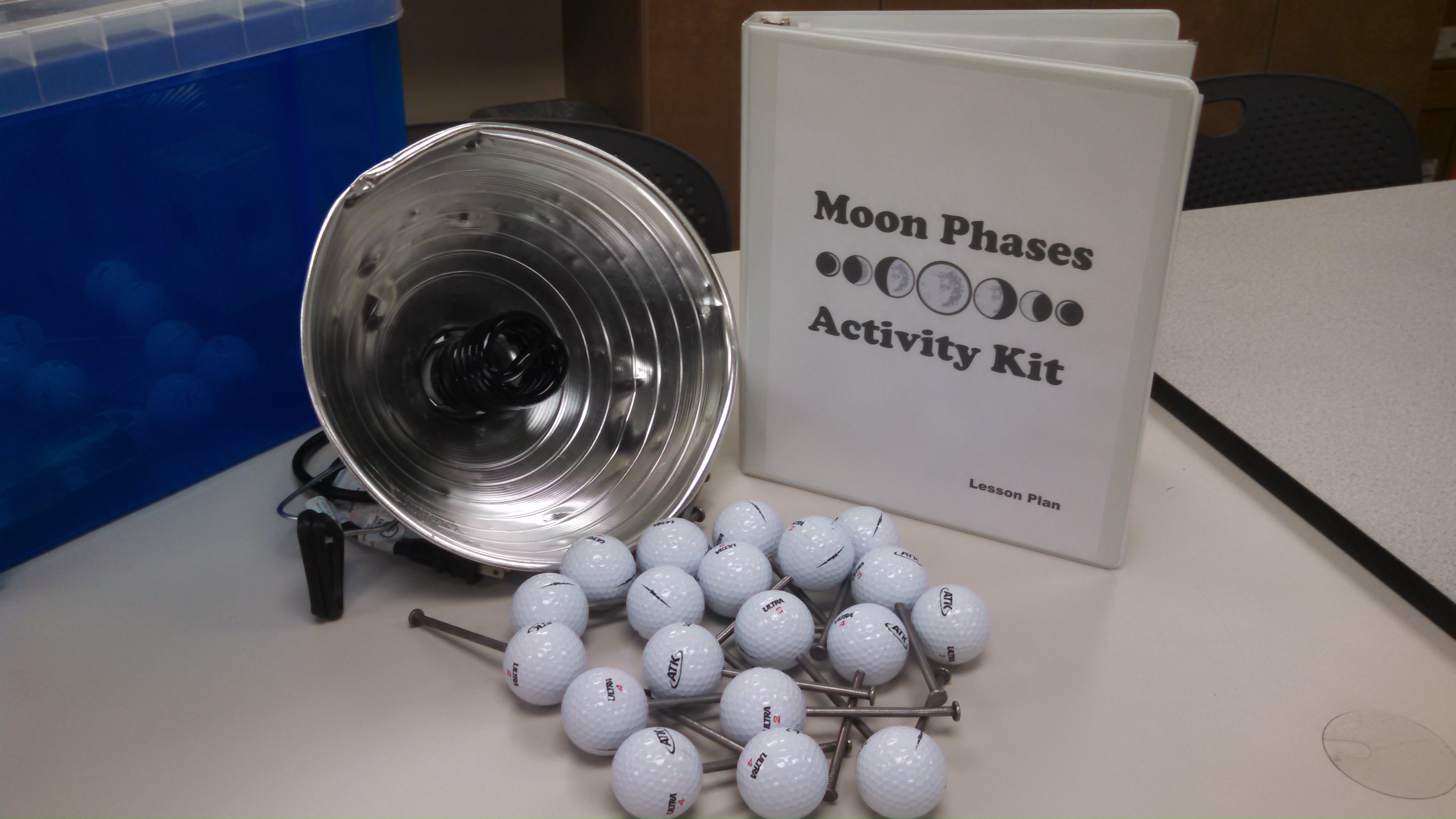 Moon Phases Activity Kit
This hands-on activity kit will allow students to visually and kinetically explore the Phases of the Moon, and the arrangement of the Earth, Sun and Moon at each of its phases.
Includes a UV lamp, 33 golf balls with nails, and a Lesson Plan.
Grade Level: 4-6
Meteorite and Volcanic Rock Kit
Students will have a hands-on experience with a meteorite, volcanic rock, and basalt rocks.
The kit includes 6 rocks (a meteorite, 2 basalt rocks, a scoria rock, a metamorphic rock, and a slice of a meteorite); 3 magnets; a DVD; and an information binder.
Grade Level: 4-12
Colonial Williamsburg: 18th Century Artifacts

Students will have a hands-on experience learning about the life of a slave, the daily life of an 18th Century woman, and the life of a Revolutionary War soldier.
Slave's Bag includes:  Slave's bag, Bill of Sale, oyster shell, flint and steel, wooden scoop, pewter button, piece of chain, pair of stockings, and a Lesson Plan
Lady's Pocket includes: Lady's pocket, sewing implements, coins (pieces of eight)and coin purse, fan, wig curler, seal and sealing wax, Aesop's fable cards, receipt, and a Lesson Plan.
Soldier's Haversack includes: Soldier's haversack, Virginia Gazette, penny whistle, wooden dice, musket ball, flint and steel, tin cup, cockade, playing cards, and a Lesson Plan.
Grade Level: 1-9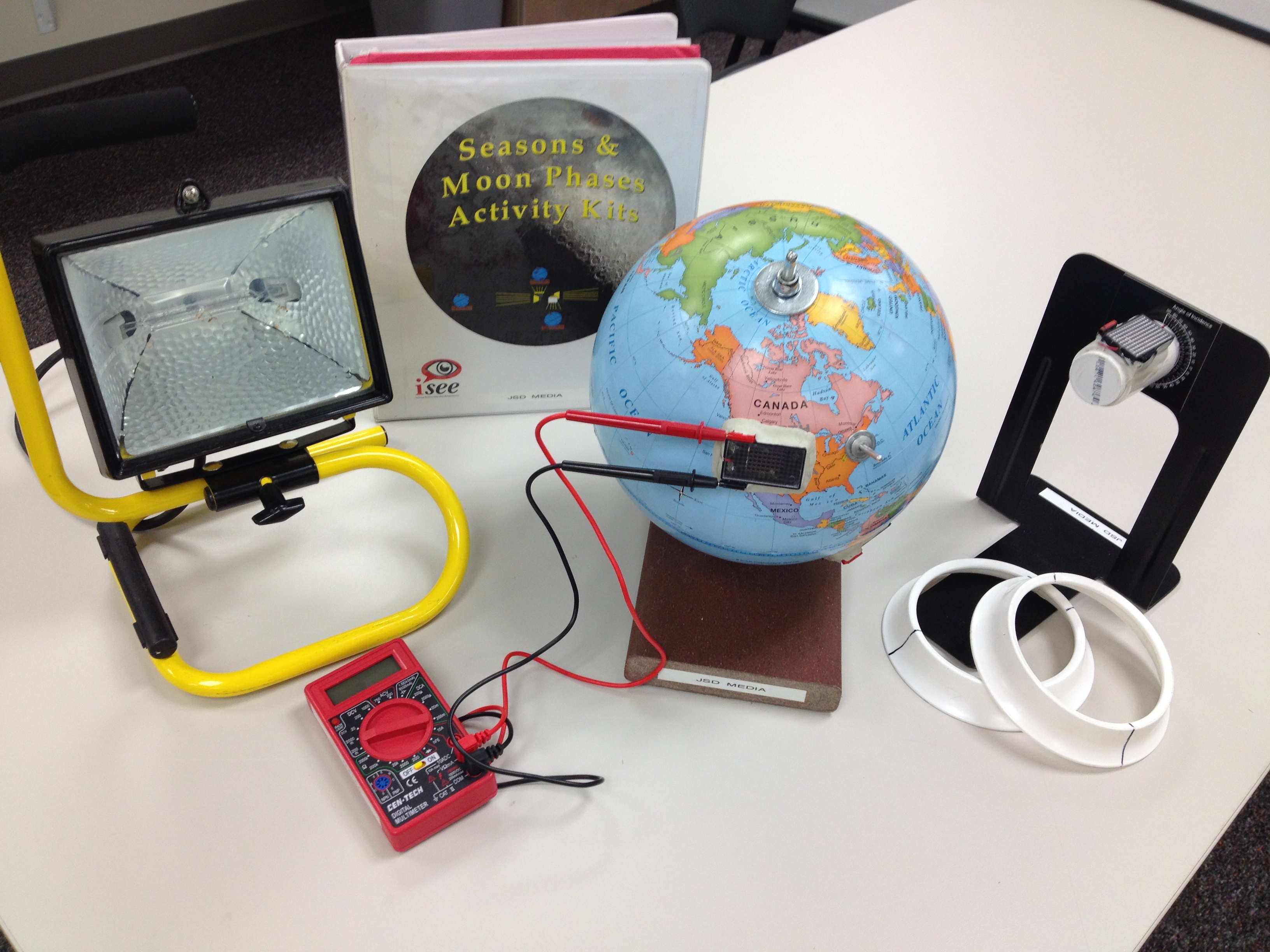 Seasons Activity Kit
Students participate in inquiry-based activities that use Earth globes equipped with solar cells and other science instruments to collect meaningful data. Students will investigate the differences in the amount of energy these Earth globes receive with changes in sun angle. This will lead to the discovery of the cause of seasonal change through an analysis of the evidence they collect.
Included in the kit: Lesson Plan Manual, Zodiac Sign Sheets, Light area Measurement Grid,  19"x 14" Board with Hole, Lamps with Stands,  Angle of Incidence Device, Extension Cord, Power Strips, 4 Globes with Solar Panels and Pegs, 6 Digital Multimeters, 6' of string.
***TEACHERS:  Please be aware that the cords on the multimeters break easily.  Please use extra care when these are being used.  If they break, the whole unit has to be replaced.
Grade Level: 4-6
 

Discovering Utah's Fossils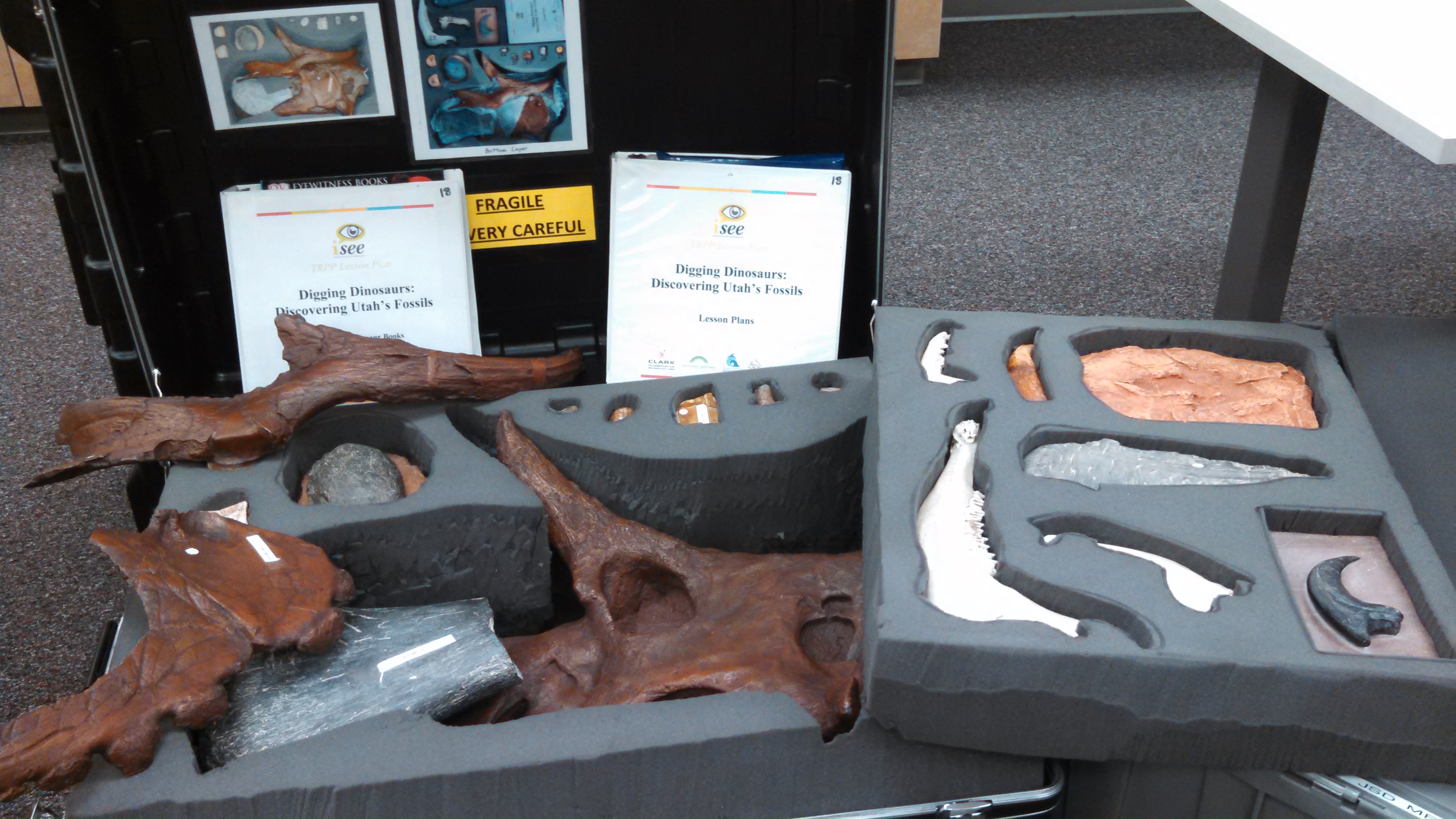 Utah Museum of Natural History "Discovering Utah's Fossils"  contains  incredible museum quality specimens featuring casts of newly-discovered Utah fossils.
Lesson content will offer ideas for simple classification systems, introduce the concept of adaptation, and provide students with the opportunity to discover the scientific processes of inquiry, data collection and analysis.
Includes many different fossils casts, books, DVD "A Fossil's Journey",  3 different Lesson Plans with background information and activity sheets, and fun hands-on activities.
Grade Level: 4-6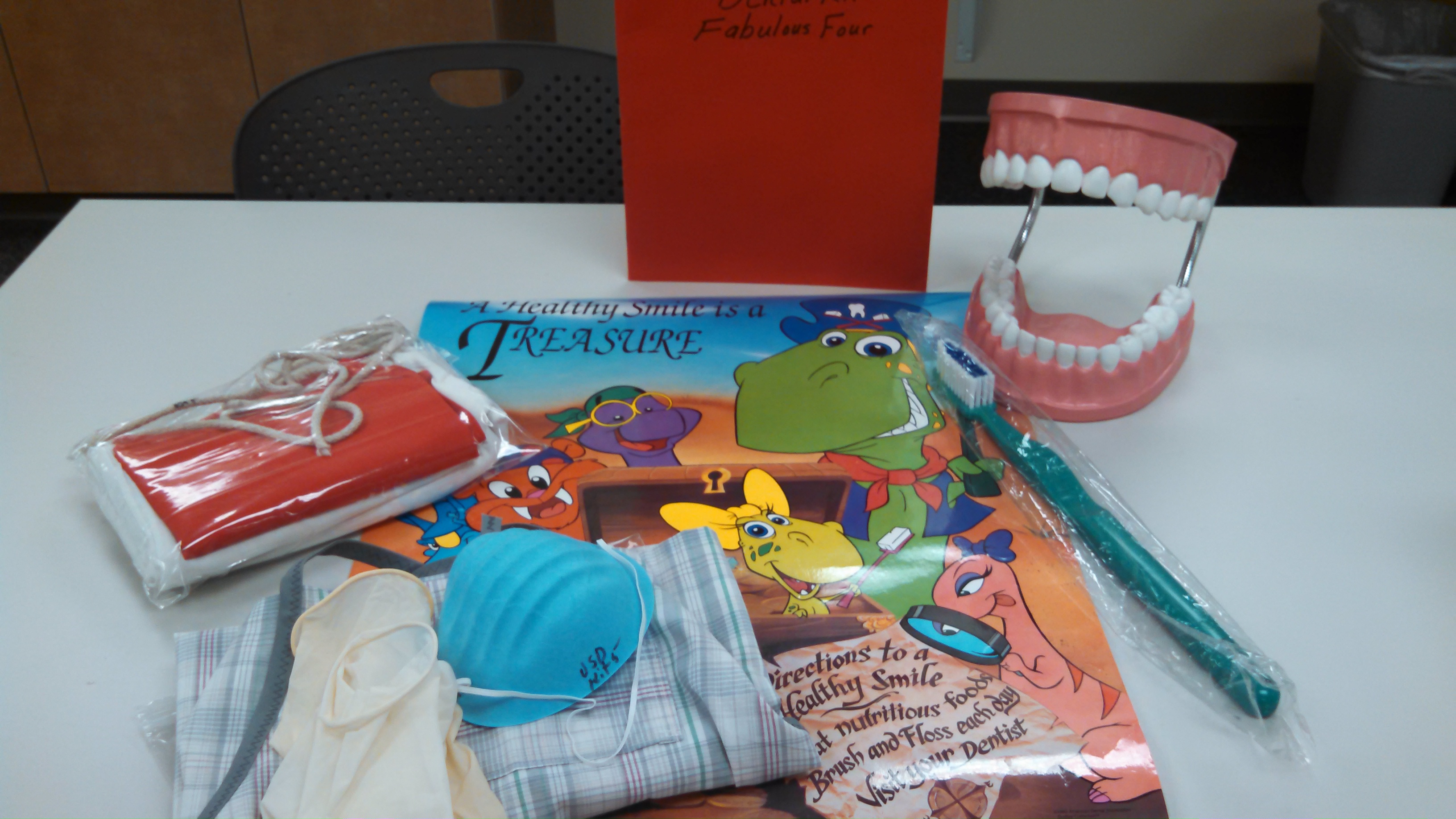 Dental Kit Fabulous Four
Students learn how cavities are formed and about the 4 things that will keep acid from eating away their teeth. These things are called the FABULOUS FOUR!
This kit includes: Pillowcases for costumes of teeth and gums; Giant set of teeth; Large toothbrush; Dentist smock, gloves, mask; poster; and a Basic Lesson Plan
**Some items will need to be provided by teacher, if so desired.  (large bowl, chocolate pudding, large marshmallow, apple, sugar snacks, Toothbrushes and Toothpaste samples)
Grade Level: K-6
Utah Dental Kit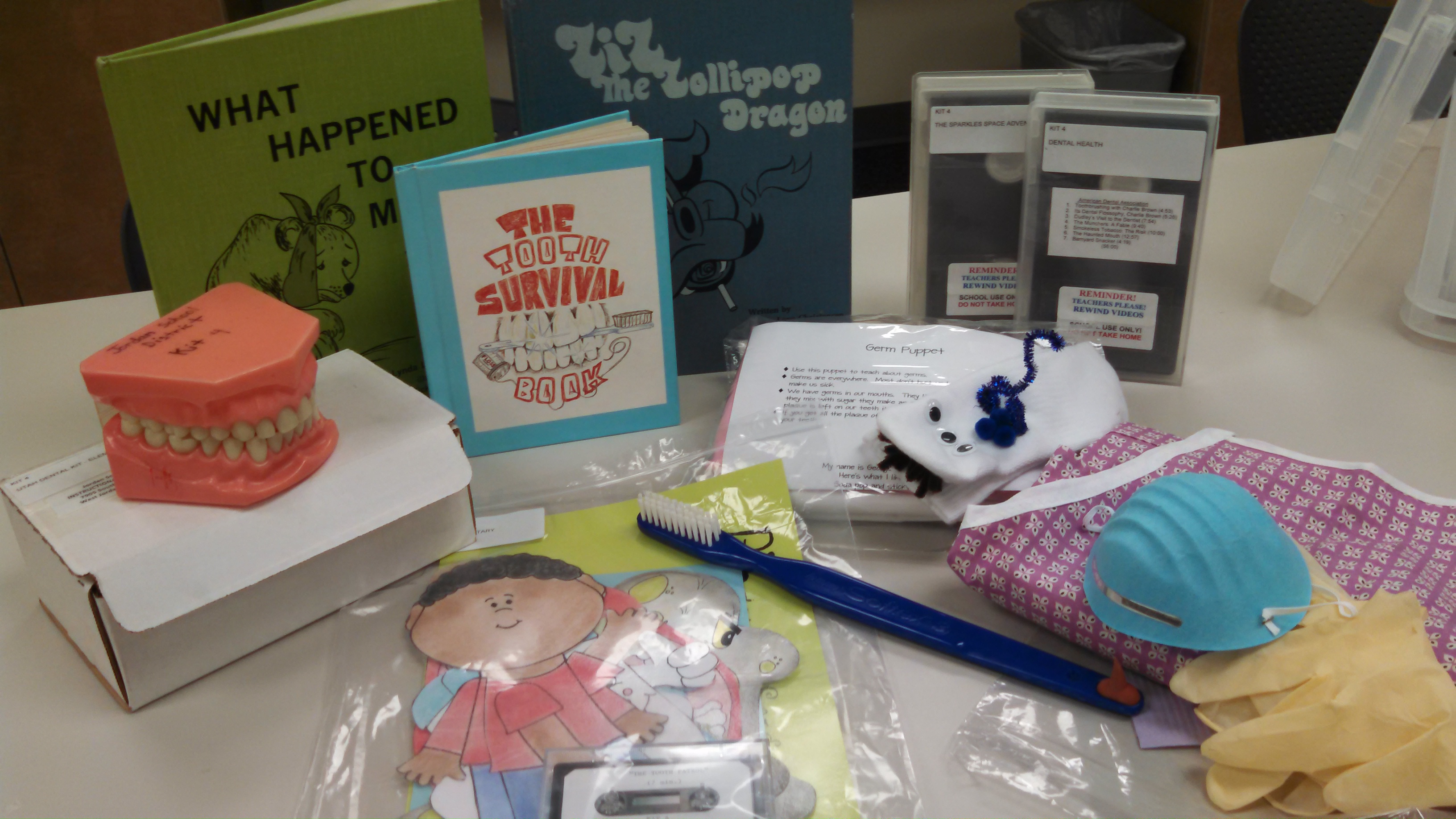 Students will learn what happens when the teeth and gums are neglected through puppets, stories, and hands-on activities.
This kit includes: Instruction and Activity Binder; Model of teeth; Videos; Dental books;  Dentist smock, gloves, mask; Story packet; Posters (including a tooth brushing chart and flossing chart); Germ puppet packet
Grade Level: K-6
  

Trappers and Traders

This unit provides an acquaintance with the "mountain men", their strenuous and unique life, their close relationship with the animals of the wilderness, their encounters with the Indians, and the contributions they made toward opening up the West.
Throughout the unit, the children are involved in first-hand experience with such items as animal furs, skinning knives, traps, "possible bags" and their contents, and other artifacts characteristic of the trapper's belongings.
This unit consists of 4 parts:
PART 1:  The "Hiring Hall" introduces the children to a period (1820-1840) of great trapping and trading activity.  It brings out the hazards and rewards of a mountain man's life.  Each child has to decide for himself whether to join General Ashley's expedition to the unexplored source of the Missouri River.
PART 2:  In "Take Me Along, Jedediah", the children learn about the tools and materials that were used in trapping and needed for survival in the wilderness.
PART 3:  In "Identifying Animals" the children learn to identify five animals by their fur, tracks, and other signs.
PART 4: This part includes four activities that took place a the trappers and traders rendezvous - telling tall tales, gambling, bartering, and marriage.
Grade Level: 1-6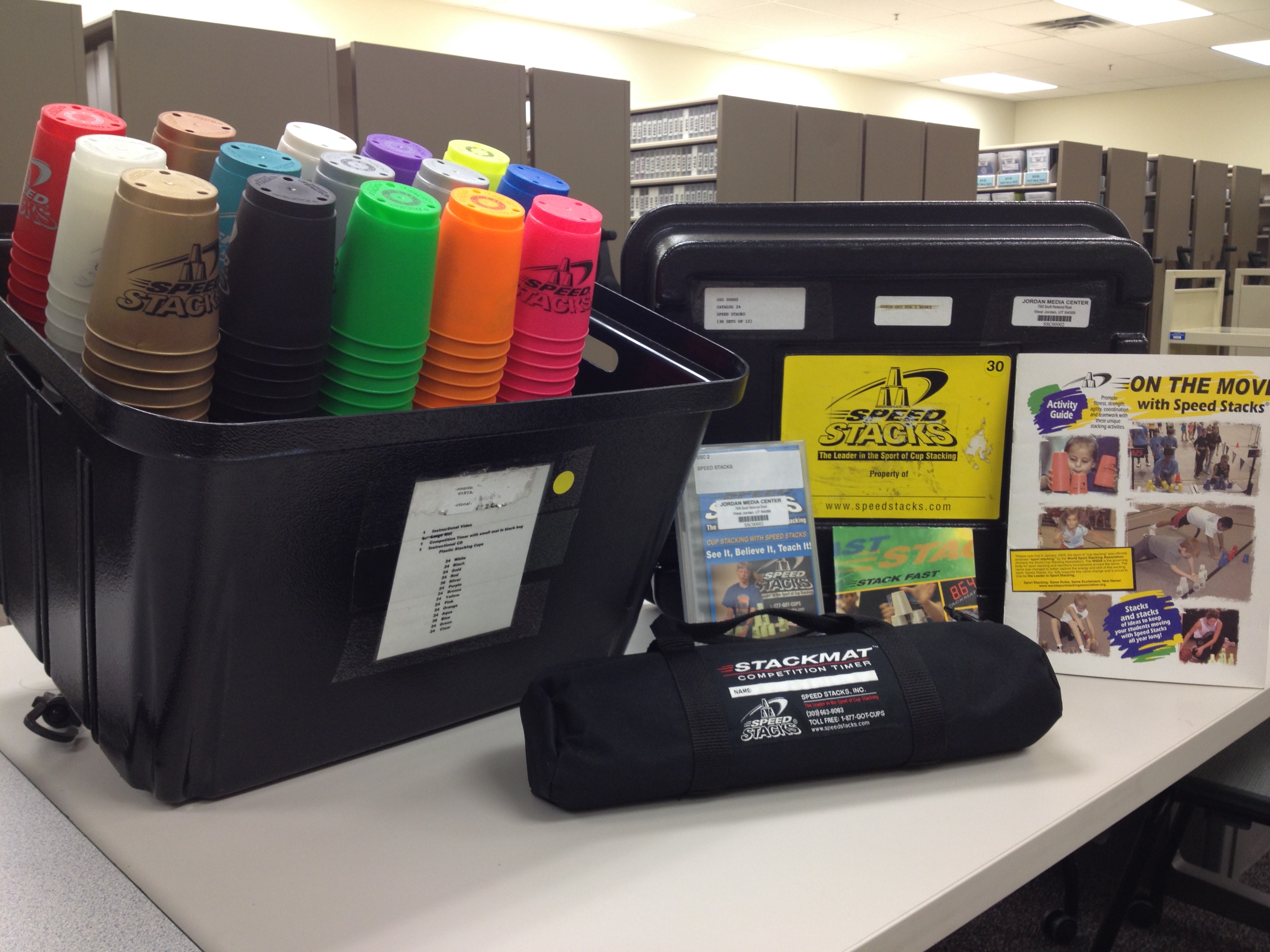 Speed Stacks
Sport stacking is an exciting individual and team sport.  Individually, stackers race against the clock for fastest or best times. Stackers also compete on a relay team racing against another team in head-to-head competition. Sport Stacking can be individualized, allowing each student to work to success at his/her own level.
Kit includes 30 sets of 12 cups; Instructional Video, Training DVD, and Competition Timer.
Grade Level: K-12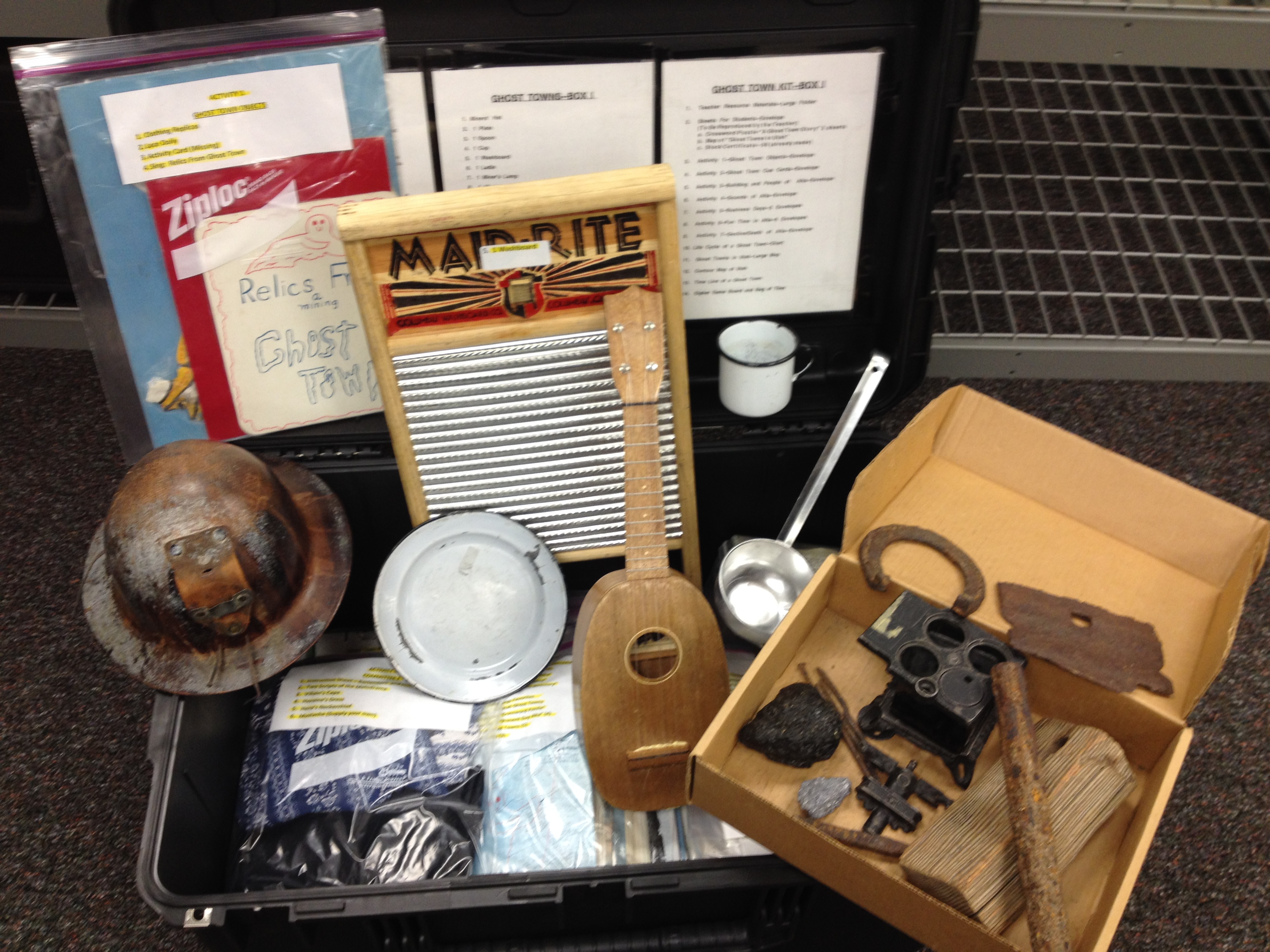 Utah's Ghost Towns
This unit is designed so that children assume roles in this community and live that role through all of the phases of the life cycle.  They become the Mayor, Banker, Hotel Owners, Miners, Restaurant Owners, and many other important citizens of the community.
They will learn that every town has a life cycle with similar activities that take place during each phase of that cycle. Like any living creature, a town is born, it grows, it experiences a time of living, it declines and it dies.
The children will realize the interdependence of one individual upon another in community life.  They should have a deeper feeling for the integrity that is necessary for successful social relationships.
The kit includes hands-on artifacts and seven fun filled activities, including a Miners Social where they will perform music, plays, and a choral reading.
Grade Level: 4-6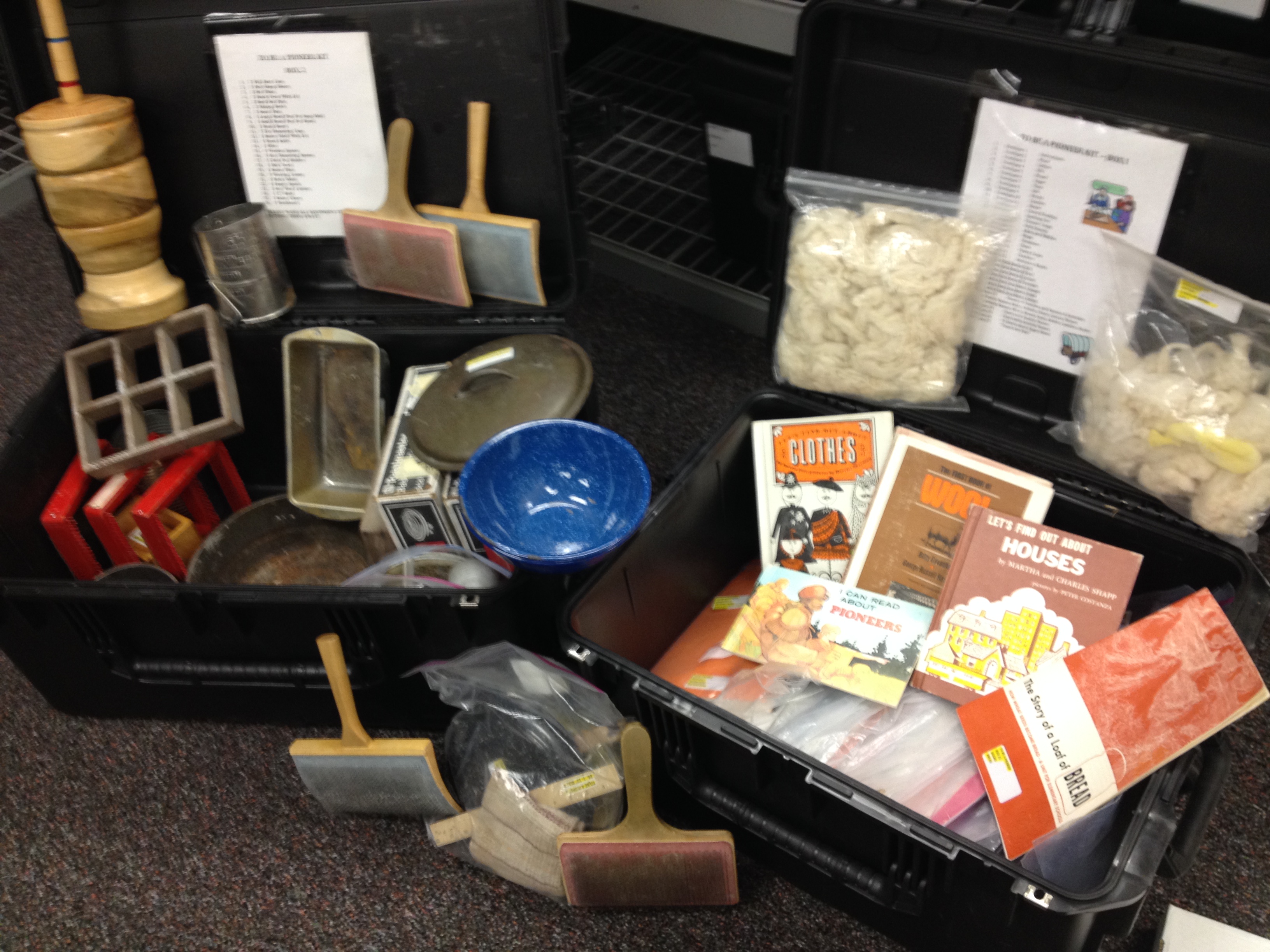 To Be A Pioneer

Hitting Pay Dirt
All of the kits are available for checkout through the IMC at 801-567-8238.  Must call to reserve.